The Vision - Key Points
Whole Chain Solution
The key outcome is to develop a communication and information management system for businesses, groups/industry clusters, (producer/packer operations, wholesale distribution operations, processors and retailers) involved in supply chain/category management distribution.
The generic data model supports a high degree of customisation at the individual business level; and therefore, the program can easily be adapted to operate in a range of fresh food sectors (fruit, vegetables and fish), flowers, wine processing, in short any business where raw harvested product is converted into a packaged form and distributed to the end-user.
Data Capture
"Data capture and integration with market agent/central distribution business software":
Other e-commerce based systems have relied on data capture at some point along the supply chain to suit the organization¡¯s position in that chain. This has met various levels of resistance due to cumbersome and time-consuming data duplication from producers. We believe that an industry standard pack house product is essential to offer central distribution businesses the full cost reduction benefits that automated data capture and integration with their business software will provide.
Horticulture Software Solutions offers a pack house software program that meets all the intricate variations that packers use to manage product, inventory, storage and distribution. If producers do not wish to use Harvest TraceMaster to manage their packing process, HSS offers a user friendly electronic forms system to allow a central distributor to import consignment information from the supplier directly into Harvest TraceMaster without the need to manually re enter data into their system. Data capture and inventory management, utilising barcode readers has been developed using PDE (mobile) devices for the pack house program.
Trust Relationships
"Create a 'trust relationship' system to provide tight control over exchange of business information for all users within the supply chain"
A Harvest TraceMaster can manage the business at every stage of the supply chain. While the old 'patchwork' data sharing can be provided for businesses using other systems, other businesses using Harvest TraceMaster products can achieve a much higher level of integration using Harvest TraceMaster 'trust relationships' which are established between companies, governing how much of each other's data they receive and what they can do with it. Harvest TraceMaster provides a platform for users to manage their business independently, and a forum for data sharing, giving users the choice at every stage about where their data is stored and how it is accessed. These trust relationships are integrated into the data messaging system.
Data Sharing
"Offer a communication and messaging system that is extremely flexible, cheap to operate, and high security"
Harvest TraceMaster operated businesses can either run the software in their own offices and exchange information directly between each other, or use the e-TraceMaster web site and internet database to act as a post-office, providing a convenient central clearing house for data exchange between many partners.
"The Hybrid Model"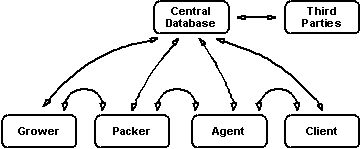 Low cost interfaces are provided to outside organizations who wish to send data to or retrieve information from a Harvest TraceMaster operated business or the central database, without owning a business system themselves.
Sophisticated data exchange is deployed using XML and messaging technologies to provide a dynamic, encrypted communication environment in real time.
Our model differs significantly from the centralized data exchange model, which only permits communication with a central server where all exchange data is stored. With the central model there are issues with business data safety, poor internet connectivity, and vulnerability to rises in cost structures since the business is entirely dependent on the central site.
Product & Quality Assurance Traceability
"Provide complete traceability of product from production source to final retail for food safety and product specification requirements. QA traceability is to be intrinsically linked with product traceability"
Harvest TraceMaster provides full traceability from the harvested block to the final point of sale for an individual package. This traceability relies on a carton having an ID number attached. There are three levels of traceability offered within Harvest TraceMaster for the market agent product; carton/tray tracking (unique carton number), pallet tracking (unique pallet number), and none (i.e. Stock Sheet level only). Full product recall tracking is available which identifies the current despatch location of all product packed from a single batch. In addition, Harvest TraceMaster offers QA reporting in 'electronic form' media to allow QA reporting to verify product specifications at any point in the supply chain. The structure and commercial nature of these electronic forms can serve as legal evidence in dispute resolution.
Open-ended Connectivity
"Offer a product with open-ended connectivity to accounting platforms, mobile and wireless technologies and provide a product with a technology base, which ensures a long product life cycle in a rapidly changing IT environment"
Harvest TraceMaster will revolutionize your business process environment. Harvest TraceMaster is designed as a front-end application system that can be integrated with accounting programs when the sales cycle is finalized. Horticulture Software Solutions is acutely aware of the change management issues facing the fresh food-wholesaling sector with the rapid adoption of electronic systems that have traditionally been handled manually or in an historic transaction manner. Our open connectivity policy will allow businesses to maintain integration with existing back office systems as well as migrate to other/new IT platforms at the pace that suits the employees and company objectives.